July 5th, 2020 - Round 3 of Ohio Speedweek to Reutzel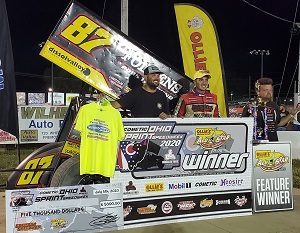 July 5th. Win number ten on the season for Aaron Reutzel came on the third round of Ohio Speedweek, sanctioned by the All Star Circuit of Champions. The Baughman-Reutzel Motorsports XXX lined up third on the initial grid and was into the lead on the 16th lap and ran away and hid from the field thereafter for the $5k win.
July 5th, 2020 - O'Brien Dominates Devil's Bowl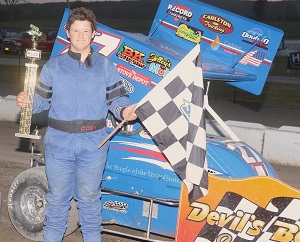 July 5th. In 600 action at Devil's Bowl Speedway in Vermont, it was Team XXX driver Cody O'Brien grabbing his second straight win. O'Brien was dominant in the A Main, driving from 7th to grab the win in the 15 lap feature.
July 5th, 2020 - 2nd Win for Spithaler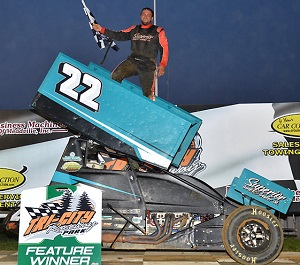 July 5th. While not as dominant as his first outing at Tri-City Raceway Park (where he won by over 15 seconds), it was another awesome outing on Sunday night for Brandon Spithaler. Racing at the huge clay oval, Spithaler piloted his XXX to his second win of the year, becoming teh tracks first repeat winner of 2020.
July 4th, 2020 - Wanner Scores Huge First Win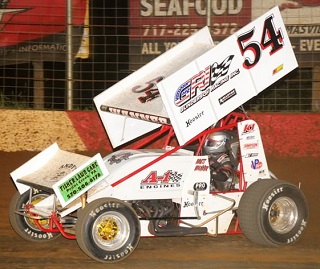 July 4th. At Triple X, we love when driver's overcome obstacles to collect wins. For driver Brett Wanner, his win at Lincoln Speedway in 358 action on Saturday night was huge, not only in the fact that he won his heat and dominated the main, but in doing so, became the second deaf Team XXX driver to visit victory lane, joining South Dakota's Greg Gunderson. Congratulations Brett - all of Team XXX is proud of you!
July 4th, 2020 - Herrell Wins Wingless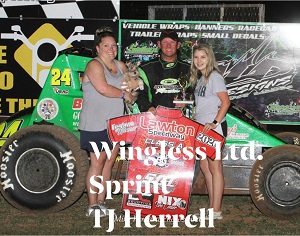 July 4th. On a hot July 4th night in Oklahoma, TJ Herrell grabbed his first win of the year. Racing wingless at Lawton Speedway, Herrell started fifth in the main event on his drive to the win.
July 4th, 2020 - Bacon Breaks Bad Luck, Wins Sprintacular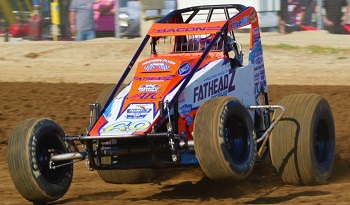 July 4th. With an outstanding field of 57 USAC National Sprint Cars on hand, Brady Bacon conquered his run of bad luck and won his 32nd career USAC National Sprint race on Saturday night at Lincoln Park Speedway in Indiana. The annual Bill Gardner Sprintacular was on the agenda, and with his mechanical issues in teh rear view mirror, Brady drove the potent Hoffman Auto Racing XXX from 8th to the win, despite a tire starting to go flat toward the tail end of the main event.
July 4th, 2020 - Donnelly Spins, Wins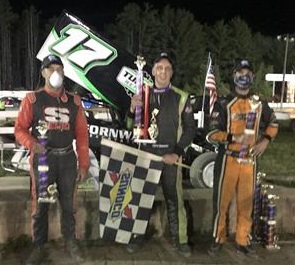 July 4th. The Sprint Cars of New England (SCONE) finished off a triple header weekend on Saturday night at Bear Ridge Speedway in Vermont where Chris Donnelly overcame misfortune to win his first race of the year. Contact from another driver sent Donnelly spinning early in the event, but the former series champ meticulously worked his way back up the field and took the lead on lap 21 as he secured the win.
July 4th, 2020 - #2 for King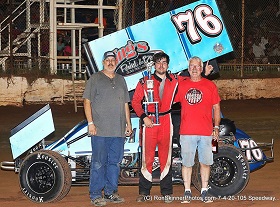 July 4th. Win number two on the year almost didn't happen for Daniel King. Racing with the Southern United Sprints, King found a driveline issue prior to the main that they did not think would be fixable in time. With the help of fellow drivers, including fellow Team XXX driver Trey Schmidt, the issue was wrapped up just in time for King to get his XXX on the track for the A Main at 105 Speedway in Cleveland, TX, where he would go on to take the victory.
July 2nd, 2020 - Robertson Wins in Unfamiliar Territory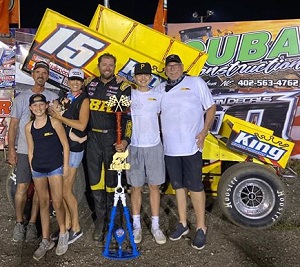 July 2nd. While Blake Robertson and the BR Motorsports XXX house car have laid waste to every track in California, the team hasn't ventured into the midwest much. This past week, that changed as Blake and the boys scored an impressive win over the Sprint Series of Nebraska, winning the A Main on Thursday night at US 30 Speedway in Columbus, NE.
July 1st, 2020 - Macri Wins Another at Port Royal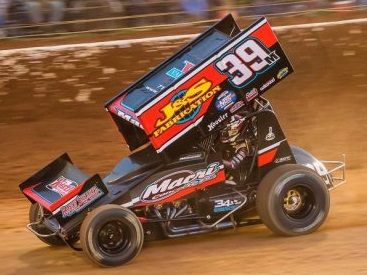 July 1st. Not much is certain in 2020, with the exception of Anthony Macri being super fast at Port Royal Speedway. On Wednesday July 1st, Macri won for the fourth time in a row in 410 competition, winning the sixth night of PA Speedweek in the process. The win was worth $7,000 and Macri came from fifth to score the lead and eventual win on lap 16, holding off Lance Dewease and Team XXX driver Aaron Reutzel for the win.
June 28th, 2020 - #1 for Bowser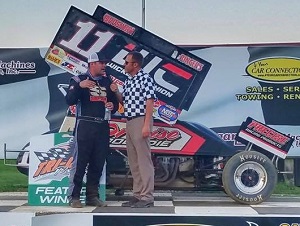 June 28th. Our congratulations go out to Carl Bowser who picked up his first win of 2020 this past weekend. The win came on a Sunday afternoon show at Tri-City Raceway in Franklin, PA.
June 28th, 2020 - Cody O'Brien Wins At Devils Bowl
June 28th. Cody O'Brien of Springfield, Vt., won his heat, and later in the night dominated the 15-lap run for the Friend Construction 500cc Mini Sprint division at Devil's Bowl Speedway. The former champion dedicated his victory to the memory of Devil's Bowl Speedway legend Butch Jelley, who passed away on May 1.
June 27th, 2020 - 6 Wins for Reutzel over All Stars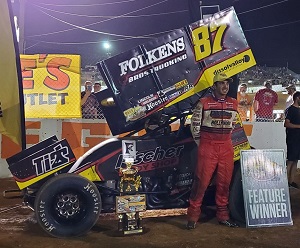 June 27th. Hurt an engine? No big deal. Crash a car? Crew will fix it. Aaron Reutzel gave full credit to his crew after doing both on Friday night at Volunteer Speedway in TN, as his Baughman-Reutzel team overcame both to help Aaron roll to his sixth All Star Circuit of Champions win of the year and 9th overall on the season. Despite the woes, Reutzel charged to the win, passing Cory Eliason with six laps to go in his XXX chassis to grab the victory.
June 26th and 27th, 2020 - Schuchart Cashes $30k wit Jackson Nationals Win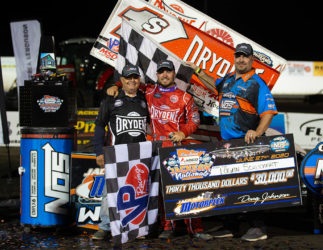 June 26th and 27th. After coming close on big stages in 2019, Logan Schuchart cashed in big time in 2020 with a $30,000 score on Saturday night during the Jackson Nationals. After dominating the prior night feature for his third World of Outlaws victory of the year, Schuchart drove his rear end off to get the big score in the Saturday program. The lead changed hands officially six times between Logan, Brad Sweet and Sheldon Haudenschild, with Logan taking charge for good toward the very tail end with a slidejob on lap 29 that secured the victory.
June 26th, 2020 - 3 Straight WAR Wins for Kreisel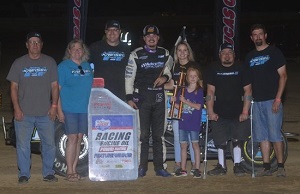 June 26th. Riley Kreisel won the Powri WAR Sprint feature for the third time in a row on Friday night. On a slick but wide Charleston Speedway in Illinois, Kreisel patiently worked his way up the field from third and used a late race slidejob on a restart to take the win for good in his XXX non wing sprint car.
June 26th, 2020 - Huge Last Lap Pass by Hanson Nets Win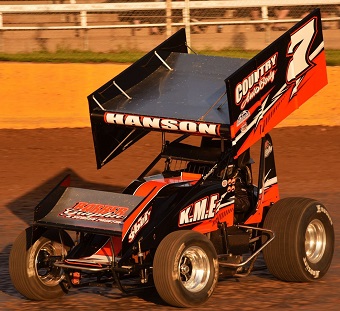 June 26th. The amount of distance that Harry Hanson made up on the last lap of the UMSS Wing Sprint Car Main Event was insane. Racing at Gondik Law Speedway in Wisconsin, Hanson appeared to be nearly 8 car lengths back of the race leader entering the final turn. Finding grip on the bottom of the speedway, Hanson took his XXX into the corner with a huge head of steam and made up the entire gap plus half a car as he slid into the lead at corner exit and won the drag race to the checkered flag for the win.
June 26th, 2020 - Becker Best at Placerville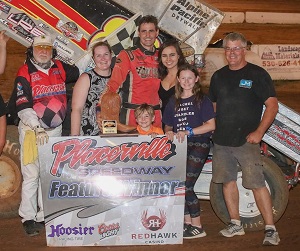 June 26th. The Sprint Car main event at Placerville Speedway saw Sean Becker weave his way to winner's circle in Dan Monhoff's XXX. Searching around the track for forward drive, Becker found great grip on the low side of turn two and used it to move from third to first in the late stages of the contest, passing Shane Golobic with just a few laps left in taking the victory.
June 25th, 2020 - Borden Best at Skagit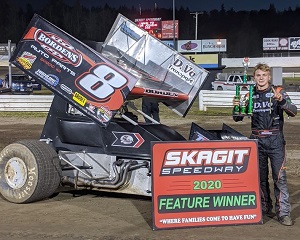 June 25th. Two Team XXX drivers gunned for the win at Skagit Speedway on Thursday night, with Devon Borden coming out on top. Corbyn Fauver controlled most of the race until Borden moved from is sixth place starting spot to second place with about ten laps left. Finding rhythm on the high side of the track, Borden traded moves with Fauver until take the lead for good with three laps to go en route to his first win of 2020.
June 25th, 2020 - 2 in a Row for Margeson at Skagit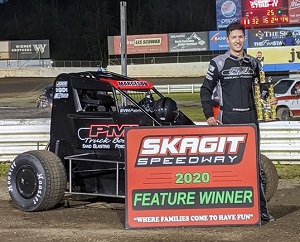 June 25th. A front row starting spot for Evan Margeson means doom for the rest of the NW Focus Midget field at Skagit Speedway. With his XXX midget handling to perfection, Margeson ran away and hid from the field on Thursday Night Thunder, winning his second straight main event at the track with relative ease.
June 24th, 2020 - Macri Gets 3rd Straight at Port Royal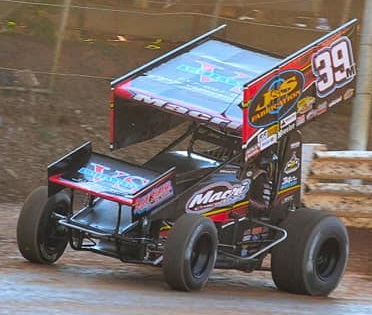 June 24th. For the third straight outing, Anthony Macri was a winner at Port Royal Speedway in PA, this time topping the All Star Circuit of Champions. Macri led all 30 laps for the score, keeping an immense number of lapped cars in between him and the rest of the field and enjoying a 4 second margin of victory in his XXX.
June 21st, 2020 - The Shark Hunts Up a Win at Petaluma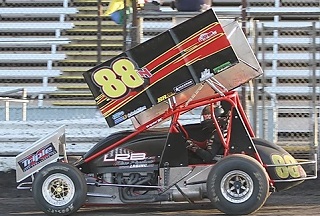 June 21st. On a hot Sunday afternoon in California, Sean Becker hunted up a win at Petaluma Speedway in Dan Monhoff's XXX. The win was the first of the year for the longtime XXX car owner and "The Shark". Becker was second quick in time trials, won his heat and led most of the main event.
June 21st, 2020 - Dodd Wins Sunday Night Special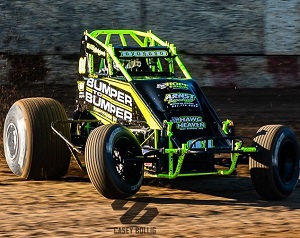 June 21st. It was a special Sunday night show for Father's Day at Wilmot Raceway for the Wisconsin Wingless Series. At the end of the night, Chris Dodd stood tall in victory lane, riding the superior handling of his XXX chassis to the win.
June 20th, 2020 - 2 Straight for Macri at Port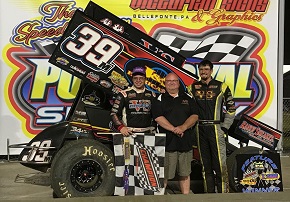 June 20th. Home cooking has been good for Anthony Macri. Since coming home from the road, Macri has been tough to beat in Central PA after taking another win this weekend at Port Royal. Macri came from seventh to slide past Dylan Cisney for the lead on lap 19, holding off Cisney's counter moves over the final few laps on his way to the $5,000 top prize.
June 20th, 2020 - #8 For Retuzel Comes at Knoxville
June 20th. Sprint Car wins keep piling up for Aaron Reutzel with the latest coming at the Sprint Car Capital of the World. running at Knoxville Raceway on Saturday night, Aaron came from sixth to destroy the field, opening up a near half track lead on Brian Brown before winning for the first time in a 410 at knoxville and for the 8th time on the year in the Baughman-Reutzel XXX.
June 20th, 2020 - Allen Tops at Arlington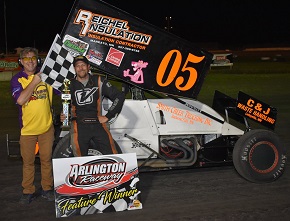 June 20th. Arlington Raceway in Minnesota kicked off racing for 2020 on Saturday night. When the dust settled and the checkered flag had been thrown, it was Team XXX driver Brandon Allen standing tall in victory lane with the winner's check and trophy.
June 20th, 2020 - #2 for Kreisel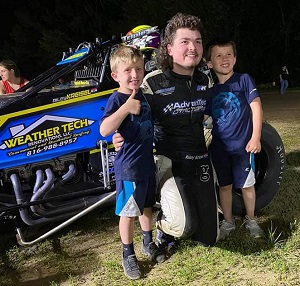 June 20th. Riley Kreisel is racing like he's in midseason form, despite it still being early in the year. With the POWRI War Sprints traveling to Adams County Speedway in Iowa, Kreisel grabbed his second win of the year in dominant fashion, lapping half the field on his way to the win this past Saturday night.
June 20th, 2020 - Rahmer Beats Montieth in Lincoln Clash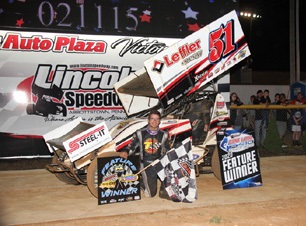 June 20th. Drivers were moving up all through the field on Saturday night at Lincoln Speedway in PA, with Team XXX eventually taking the top two spots. Freddie Rahmer ended up wit the victory, driving from deep up into the lead on lap 22 and leading the rest of the way in heavy traffic. Driving from 23rd, Brian Montieth closed on and challenged Freddie at the end, settling for second by .334 seconds. Congrats to both teams on the huge night!
June 20th, 2020 - Dominant First Night for Robertson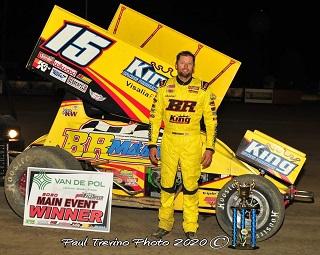 June 20th. The potent BR Motorsports XXX House Car made its first appearance of 2020 on Saturday and it was an incredibly dominant outing for Blake Robertson. Keller Auto Speedway watched Blake set fast time and take the main event win, lapping cars from 18th place all the way up to fifth.
June 19th, 2020 - First Midget win for Armitage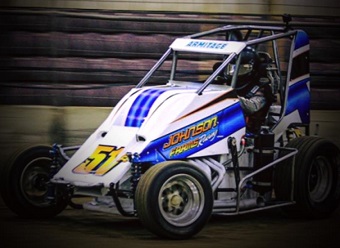 June 19th. Congratulations go out to Will Armitage, who grabbed his first midget win this past Friday. Will led every lap of the D2 Midget Feature at Lincoln Speedway in illinois.
June 19th, 2020 - Sodeman Jr Leads XXX Top 3 at Lernerville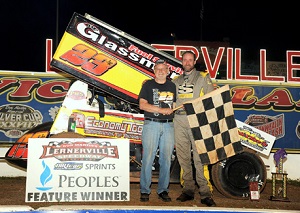 June 19th. What a great night it was for Team XXX at the Lernerville Speedway season opener on Friday. Team XXX swept the podium, with Jack Sodeman Jr leading the charge over Brandon Spithaler and Carl Bowser.
June 19th, 2020 - Wire to Wire for Lewis' First Winged Win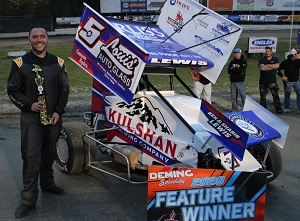 June 19th. Alex Lewis accomplished a long sought after goal on Friday night, winning with his wing on at Deming Speedway in the 1200 class. Racing his DLX 1200, Lewis would lead every lap of the main in a tightly contested affair.
June 19th, 2020 - Easy Win for Peterson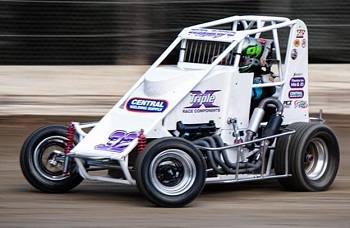 June 19th. Jared Peterson set out to pound down the cushion at Deming Speedway on Friday night, and he was so successful that he also brought home a main event win. Aboard the Inlaws Racing XXX midget, Peterson had his car rolling so well on the high side of the track that he was never challenged in leading al 25 laps. Congrats Petey, Skid and Jolene on the W!
June 18th, 2020 - Finally! Heath Gets Skagit Win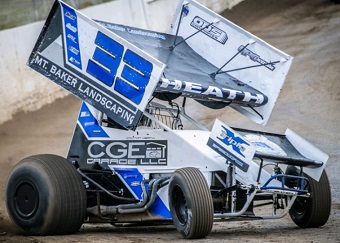 June 18th. This week, Colton Heath ended his string of sub-second second place runs by beating up the field at Skagit Speedway for his first win of the year. The LAW Motorsports XXX was fast all main event long, with Colton distancing himself from the field after taking the lead in the feature on lap 15.
June 14th, 2020 - Macri Wins in a Thriller at Port Royal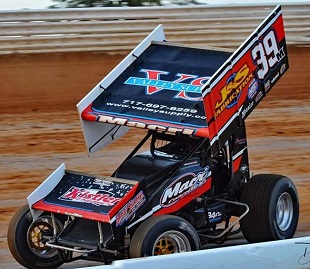 June 14th. Making the overnight haul from Knoxville, anthony Macri won a thrilling main event on Sunday at Port Royal Speedway in PA. Leading all 25 laps in his XXX, Macri was up on the wheel the entire race, trading slidejobs in clean air and amongst traffic to fend off all challengers for the $5k payday.
June 14th, 2020 - 18 Second Margin of Victory for Spithaler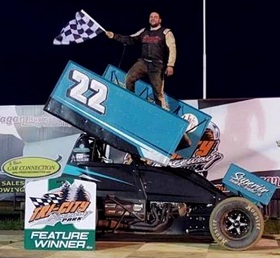 June 14th. How's this for dominant? Brandon Spithaler was so good on Sunday night at Tri-City Raceway Park in Franklin, PA, that he enjoyed a margin of victory in the double digit range of seconds. How many seconds exactly? 18! The ungodly gap between him and the field was a result of Brandon's heavy right foot and his XXX having a perfect setup, running strong in clean air and while lapping nearly the entire field.
June 13th, 2020 - Lucky #7 for Reutzel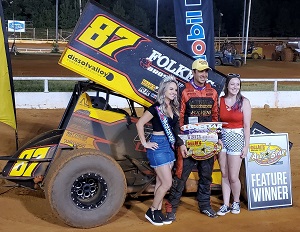 June 13th. Thundering through the Midwest with the All Star Circuit of Champions, Aaron Reutzel won his lucky #7th feature of the year this past weekend. With a race in his home state of Texas on tap at Lonestar Speedway, Retuzel blasted into the lead on the low side of the track on lap and stretched his lead out to half the track by the time he took the checkered flag on lap 30. It was also Aaron's 30th career win with the All Stars.
June 13th, 2020 - PASS Win to Scarborough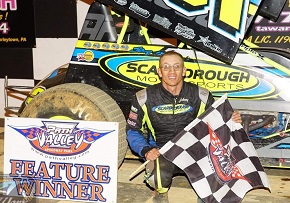 June 13th. Team XXX driver Johnny Scarborough ventured to a new location to pickup a win in his XXX chassis on Saturday. The PASS series visited Path Valley Speedway in Spring Run, PA where Scarborough collected the win from his outside row 1 starting spot.
June 13th, 2020 - Second Victory for Covington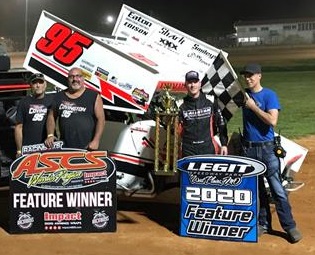 June 13th. For the second time in 2020, Matt Covington found himself in victory lane in ASCS regional competition. Racing with the ASCS Warrior and Mid South regions, Covington led all 25 laps in his XXX at Legit Speedway Park in West Plains, MO.
June 12th and 13th, 2020 - Double the Winning for Rahmer in PA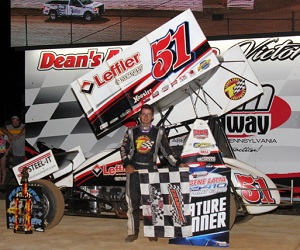 June 12th and 13th. Despite lots of speed, Freddie Rahmer hadn't visited victory lane in his XXX sprint car this year prior to this weekend. That all changed for Freddie as he came away with two wins this past Friday and Saturday, claiming victories in 410 action first at Selinsgrove Speedway and following it up with a Saturday night score at Lincoln Speedway. His win at Lincoln was a XXX 1-2 finish with Brian Montieth and paid out $5,000.
June 12th, 2020 - 2nd Win for Jett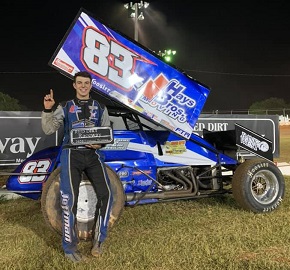 June 12th. A little change in game plan paid off with a win for Jett Hays on Friday night at Red Dirt Raceway in Oklahoma. Originally planning to roll the top from his ninth place starting spot, Hays dropped back a bit on the original start before taking his car low and surging ahead. After working his XXX to third in the final laps, Hays watched the lead pair get together, opening the door for him to blow past the two into the lead on the final lap, securing his second win of 2020.
June 12th, 2020 - Easum Grabs Win & Point Lead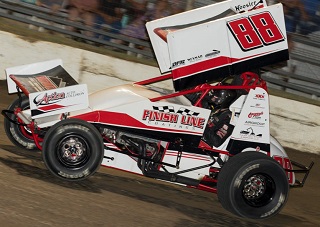 June 12th. Coming into Friday night, Terry Easum had three podium finishes but no wins on the year with the OCRS. After Friday night, Easum not only excited with his first OCRS win but the series point lead as well. Racing at Humboldt Speedway in KS, Easum was dominant in his XXX, leading every lap of the main.
June 12th, 2020 - Owings Gets It Done at Trail-Way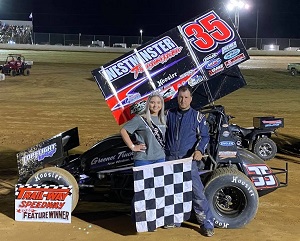 June 12th. For the 26th time in his career, Steve Owings won at Trail-Way Speedway in the 358 class. It was one of the more memorable wins for Steve who had his XXX in third with four laps left, before sweeping around the outside of fellow Team XXX driver Dylan Norris for second and on the last corner of the last lap, swooping into the lead to take the victory.
June 11th, 2020 - Lelmey Edges Heath for Win #1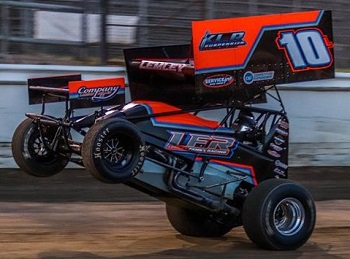 June 11th. The second week of Thursday Night Thunder at Skagit Speedway saw Team XXX sweep all three open wheel divisions, highlighted by Brock Lemley's win in the 360 Sprints. Lemley led the first twenty one laps of the main before Colton Heath snuck by him low to lead laps 22 and 23. Mired in heavy traffic, the pair went wheel to wheel over the last two laps before Brock out drag raced Colton to the win by .048 seconds.
June 11th, 2020 - Midget Victory to Margeson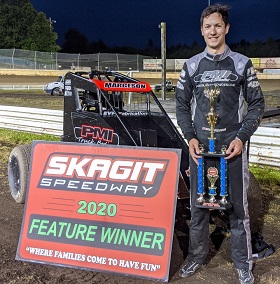 June 11th. The NW Focus Midgets made their 2020 debut at Skagit Speedway on Thursday night, where Team XXX dominated the night and especially the A Main Evan Margeson earned top honors by leading the last 19 laps for the win, with an all XXX podium following him.
June 11th, 2020 - Rude Gets Skagit Victory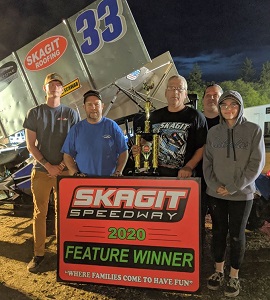 June 11th. Winning is winning, no matter the method. On Thursday night at Skagit Speedway, Bill Rude took an unconventional path to victory lane. Rude ran a very strong second to fellow Team XXX driver Chase Goetz on Thursday and was awarded the win when Chase missed the minimum weight requirement in post race inspection.
June 6th, 2020 - ASCS Elite Falls to Cody Price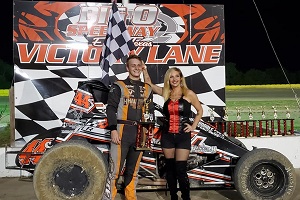 June 6th. Team XXX visited victory lane on the back of Cody Price on Saturday night. Racing with the ASCS Elite Non Wing Sprint Car Series, Price got the win from outside of row one in his XXX chassis at Big O Speedway in Ennis, TX.
June 6th, 2020 - King Leads XXX 1-2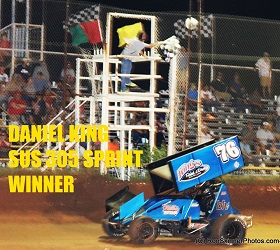 June 6th. Congratulations and welcome back to Team XXX Daniel King! King won the main event in his first race of the year ahead of fellow Team XXX driver Trey Schmidt at 105 Speedway in Cleveland, TX.
June 6th, 2020 - Kriesel Wins Non Stop War Sprint Feature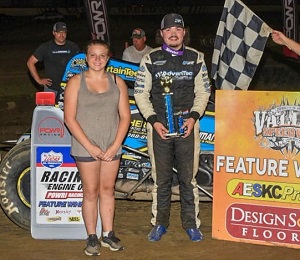 June 6th. Win #1 for Riley Kreisel came this past weekend in Powri War Sprint action. Competing at Valley Speedway in Missouri, Kreisel had the family XXX rolling, swinging into the lead just beyond halfway in the main to take the top spot and winners trophy.
June 5th, 2020 - Reutzel over Larson at Red Dirt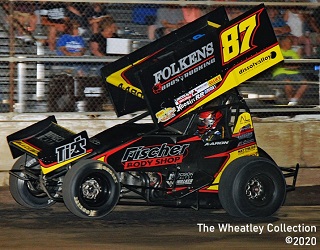 June 5th. The All Star Circuit of Champions put on an amazing main event at Red Dirt Raceway in Meeker, OK on Friday night. Five drivers were up front competing for the main event win, but it was Aaron Reutzel in his Baughman-Reutzel XXX taking the top spot, winning a battle of slide jobs with Kyle Larson to grab the win in front of a thrilled crowd.
June 5th, 2020 - The Gass Monkey Best in Texas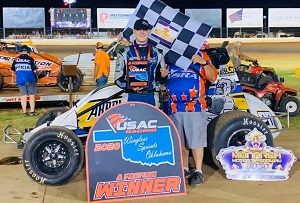 June 5th. On his first night in a XXX chassis, Noah Gass aka The Gass Monkey got the job done over the USAC wingless Sprints of Oklahoma. Racing at Monarch Motor Speedway in Wichita Falls, TX, Gass led all 20 laps from the outside of the front row.
June 5th, 2020 - Brubaker Grabs Attica Opener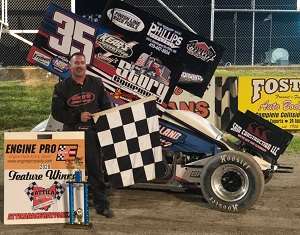 June 5th. Early season wins at Attica Raceway Park and Stuart Brubaker go together like PB&J. Even though "early season" is a little late this year, Brubaker grabbed the opening night win at Attica in the 410 division by taking his XXX from the outside of the front row to the win.
June 5th, 2020 - First Win in New Chassis for Evans
June 5th. Over the offseason, Nick Evans and his team put together a brand new XXX midget and it's been lightning fast right out of the gate. Following up a third place run from the week before, Evans got the win at Deming Speedway this past Friday night, passing Jesse Conway in turn four with seven laps left and rocketing away to the win.
June 5th, 2020 - Winning Weekend for Douglas
June 5th. Chris Douglas came out of the box with a good weekend of results in Texas. Douglas started on Friday night by parking his XXX in victory lane at West Texas Raceway in Lubbock,after also winning his heat. Moving on to Saturday night, he grabbed another heat win and third in the main at Route 66 Motor Speedway in Amarillo.
May 30th, 2020 - Sanders Ends Midwest Trip with Win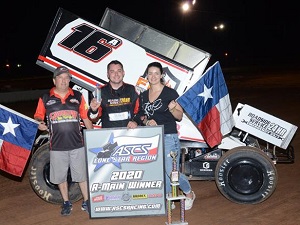 May 30th. California's Justin Sanders concluded a two night trip to the midwest with a win over the ASCS Lonestar Region at 105 Speedway in Cleveland, TX on Saturday night. Justin led every lap of the main in his XXX to take home the top prize.
May 30th, 2020 - Wingless Win for Bowers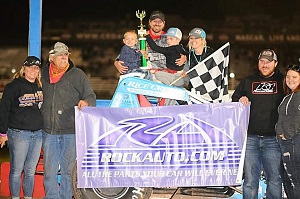 May 30th. The AK Racing #16 went wingless on Saturday night with great success, as Ryan Bowers picked up a win at Cedar Lake Speedway in Wisconsin. The teams XXX was hooked up and hauling, as Bowers won both his heat race and the main in UMSS sanctioned action.
May 30th, 2020 - Lambertz Wins at I-90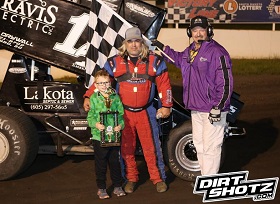 May 30th. IMCA Racesaver Sprint Cars took to the track at Hartford, SD's i-90 on Saturday. John Lambertz ended up with the win in his XXX chassis, taking the lead on lap five beofre crossing the finish line first in front of a stout field of cars.
May 30th, 2020 - Pavement Victory for Larson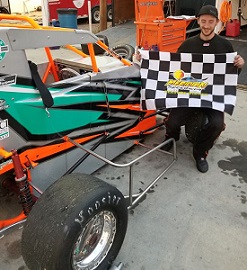 May 30th. Bringing his focus powered XXX midget up against open engines, Nik Larson pulled off a huge upset at Meridian Speedway in Idaho on Saturday night. Racing the high speed paved joint, it was Larson using the superior handling of his XXX to keep a smooth line the whole way as he picked up the win.
May 30th, 2020 - Macedo Goes Wire to Wire at Marysville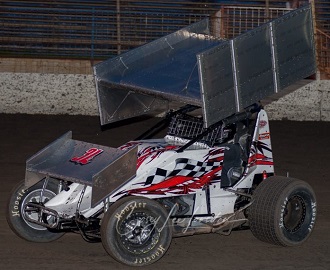 May 30th. In the growing crate sprint division at Marysville Raceway in California, Jeff Macedo grabbed his first win of the year on Saturday night. Macedo led every lap of the 20 lap A Main for the win, holding off former track champ Brett Youngman the whole way around.
May 30th, 2020 - Big Win for Rumsey at Selinsgrove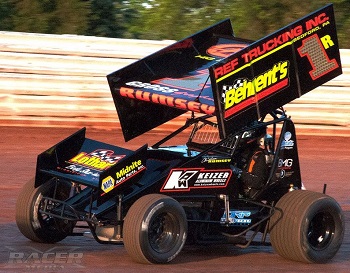 May 30th. 51 305's showed up Saturday night as Selinsgrove Speedway returned to action in Central PA. When the dust settled, Christian Rumsey came away with the win in his XXX chassis, his first of the season, first with the series and first career in a sprint car.
May 30th, 2020 - Worley Rolls at St Francois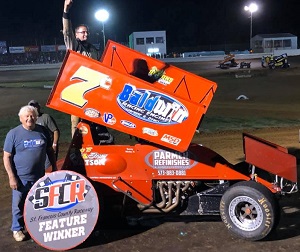 May 30th. 410 Sprint Cars highlighted the card as St Francois County Raceway in Missouri returned to racing Saturday night. With a Balkdwin Racing Engines LS 410 under the hood, Tommy Worley Jr dominated the night in the teams XXX chassis, winning his heat race and the main event.
May 29th, 2020 - Outlaw Win for Schuchart, Extends Point Lead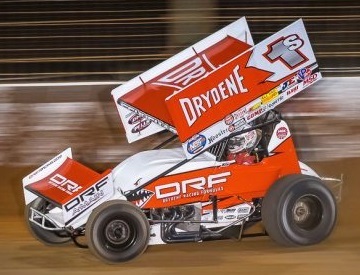 May 29th. For the second time on the year, Logan Schuchart stood victorious over the World of Outlaws and in the process, extended his point lead for the 2020 campaign. Lake Ozark Speedway hosted The Greatest Show on Dirt on Friday night, and it was Logan coming out on top of a battle of Shark Racing teammates, outdueling Jacob Allen for the lead in the early stages of the race as he went wire to wire for the win in the teams XXX chassis.
May 29th, 2020 - All Reutzel in First All Star Point Race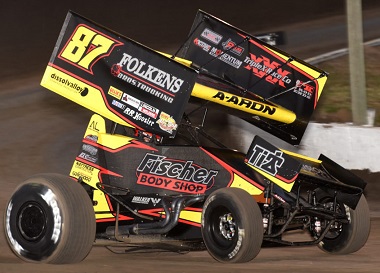 May 29th. Aaron Reutzel set sail in the first All Star Circuit of Champions point race of 2020, dominating the main event for his third All Star win of the year and fifth overall. Racing at Park Jefferson International Speedway in South Dakota, it was Reutzel taking the lead away from fellow Team XXX driver Justin Henderson on the seventh lap and stretching to an insurmountable lead by the drop of the checkered flag for the $6,000 score. Henderson piloted the Mike Sandvig owned XXX to third, giving XXX two of the three podium positions.
May 29th, 2020 - Crum Doubles Up Deming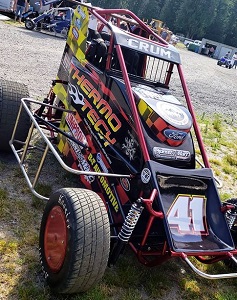 May 29th. Two wins in one night was quite the feat for Chance Crum at Deming Speedway on Friday night. The winning started in the NW Focus Midgets, as Crum went around the outside of fellow Team XXX driver Shane Smith on a lap six restart in what ended up being the race winning pass. He followed it up with a win in the 1200 division, slingshotting around the outside of teammate Derek Holmwood around the midpoint of the main for win number two.
May 29th, 2020 - Bergman Drives Up Wall for Sooner Win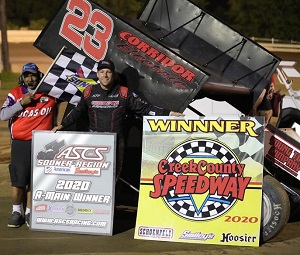 May 29th. How bad did Seth Bergman want an ASCS Sooner win on Friday night? So bad that he drove up the wall of the racetrack to get it on the final lap. Racing at Creek County Speedway in Sapulpa, OK, Bergman used every last inch of the track, and then when the track ran out, literally put his tires on the back straight wall on the final lap as he searched for room around Blake Hahn. the wall move worked for Seth as his XXX settled down right before ripping the lip through the final turns to score the last lap win.
May 25th, 2020 - Montieth Victorious in return to Racing at Lincoln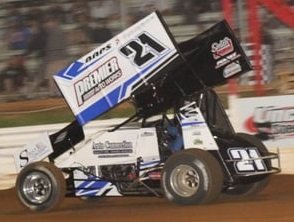 May 25th. 410 Racing returned to Central PA on Memorial Day with Brian Montieth winning the first race in months at the Fabulous Lincoln Speedway in Abbottstown, PA. The Premier Racing XXX sat on the pole for the $5,000 to win, 35 lap main event and led every lap of the contest, only seeing his lead challenged while working in traffic. Brian's win was his first of the abbreviated start to the 2020 campaign.
May 8th, 2020 - Hays Beats 59 Cars for SSO Win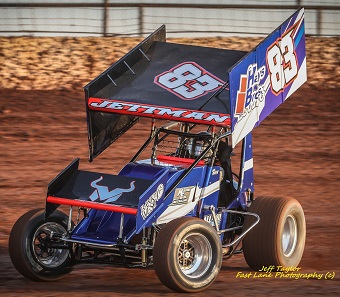 May 8th. As the world takes steps back to normalcy, racing returned to Monarch Motor Speedway on Friday night with an outstanding 60 cars signed in for action at the Wichita Falls, TX race track. Team XXX made a strong showing on the night, with Jett Hays grabbing his first victory of 2020. Hays started outside the fourth row and made his way into the lead on lap 11 en route to the victory under Sprint Series of Oklahoma sanctioning.
March 8th, 2020 - Milburn is AU #1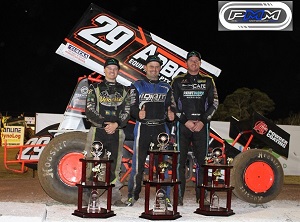 March 8th. What a Sunday night it was for Team XXX at the Australian 360 National Championship at Simpson Speedway in Victoria. At the end of Sunday night's finale, Brett Milburn earned AU #1 for the next 365 days in front of second place finishing Jordyn Charge, both in XXX chassis. Milburn entered the final night second in points With an outside row one starting spot in hand, Milburn wrestled the lead away from David Murcott on lap five and would control the rest of the 40 lap feature with little challenge in taking the huge win. Charge came from 8th to 2nd, scrambling all weekend after crashing early in a prelim event to score a podium finish.
Photo by Phil Michell
March 7th, 2020 - Rahmers Run 1-2 at Lincoln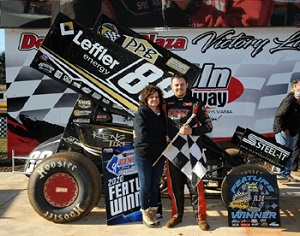 March 7th. Early season success for Rahmer Brothers Racing on Saturday afternoon at Lincoln Speedway where brother Brandon bested brother Freddie, leading an XXX 1-2 finish. While Brandon controlled the race up front after passing Billy Dietrich, Freddie would come from eighth to threaten late before Brandon scored the victory.
February 28th and 29th, 2020 - Hannagan Sweeps Midwest Winter Nationals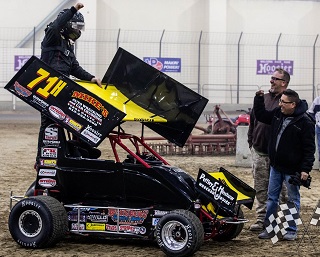 February 28th and 29th. It took just 10 races in a Micro before Mason Hannagan grabbed a big win, and on race 11, he won his second big feature in a row! Hannagan took his XXX 600 to a win on Friday night in Duquoin, IL, leading teammate Kaden Englehart to the line by two tenths of a second to win night one of the Midwest Winter Nationals. Not satisfied with just one, Hannagan came back the next night in the Winged A Class division and did it again, thundering to victory number two and a sweep for the weekend.
February 28th and 29th, 2020 - Element is Western Australia 600 Champ
February 28th and 29th. In his first year in a XXX 600, Steven Ellement is stronger than ever before after winning the Western Australia 600 champion ship. On night one of the two night showdown at Geraldton Speedway in Western, AU, Ellement was on absolute cruise control, winning both of his heats and leading every lap of the main event for the prelim night sweep. Ellement was so good that he nearly led every lap of every heat race as well. On night two, Ellement again showed strength, finishing second in his heat to set up a pole position start for the feature. After a ragged first few attempts at starting, Ellement shot out to a lead that would never be eclipsed, nor challenged as he led all thirty laps for the State Title.
February 29th, 2020 - McHugh Leads XXX 1-2-3-4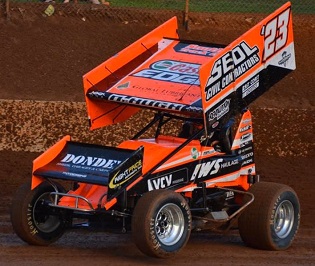 February 29th. It was a dominating night for XXX in Brisbane on Saturday, as Team XXX took the top four spots in the 410 main event at Archerfield Speedway in Queensland. Lachlan McHugh visited victory lane for the first time in 2020, scoring the win from fourth, while Kevin Titman, Mitchell Gee and Ryan McNamara all raced their way into top finishing spots to complete the XXX domination.
February 28th, 2020 - ASCS Lid Lifter to Covington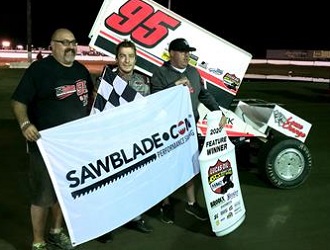 February 28th. From start to finish, no one was better than Matt Covington on Friday night at Canyon Speedway Park in Arizona, as the ASCS National Tour kicked off its 2020 season. Covington led all 25 laps of the main event in his XXX chassis, deftly changing grooves multiple times over the course of the race to keep up with the ever changing racetrack. Covington left the first week of action in Arizona as the early leader in ASCS points.
February 14th and 15th, 2020 - Bacon Scores Double Wins at Ocala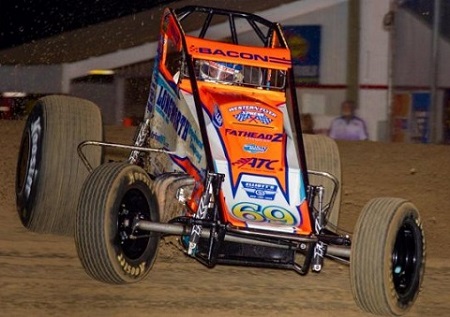 February 14th and 15th. The opening weekend of the year for the USAC National Tour saw Brady Bacon pilot the Hoffman Racing XXX to back to back wins at Bubba Raceway Park in Ocala, FL. Bacon took the win on night number one by racing up from ninth into the lead with just three laps left, using a narrow gap at the bottom of turn one to make the race winning pass. Starting Saturday night also in ninth, Bacon was up to the top spot much sooner, taking the lead on lap 13, then holding off a charge from Chris Windom as the pair traded moves over the final few laps, with Bacon emerging with the weekend sweep of feature wins.
February 15th, 2020 - Titman Tops at Archerfield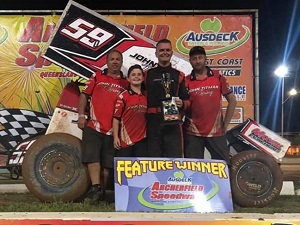 February 15th. 2020 has started well for Kevin Titman. After running second to Donny Schatz just a short time ago, Titman bettered himself by one spot and earned his first victory of 2020 at his home track of Archerfield Speedway in Brisbane, QLD. Running the BHR Fabrications XXX (and supported by Brad "Harry Hogge" Hilder), Titman scored the popular win from a sixth place starting spot.
February 15th, 2020 - $10,000 King of the 360s Win to Reutzel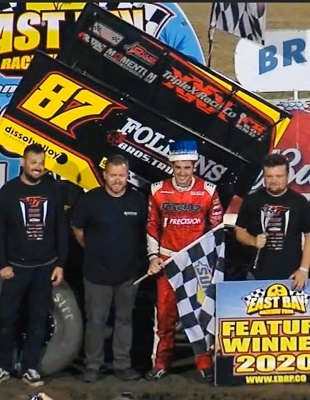 February 15th. Big wins seem to be coming easy these days for the defending All Stars champ Aaron Reutzel. With $10,000 on the line Saturday night, Reutzel took the win in the Ronald Laney Memorial at East Bay Raceway Park. Reutzel worked methodically toward leader Mark Smith and with a big slide just past the races halfway point, took the top spot for good en route to the win in the Baughman-Reutzel XXX.
February 15th, 2020 - All Stars Win for Jones
February 15th. When longtime supporter Scott Perrett buzzed Ryan Jones about taking his XXX sprint out for a tune up with the Australian Sprintcar Allstars on Saturday night, it was a no brainer for Jones. With a fast hotrod underneath him, Jones had the Perrett machine rolling strong in the A Main, collecting the win easily after starting fourth at Sunline Speedway in Waikerie, South Australia.
Photo by Phil Michell Motorsport Media.
February 6th and 10th, 2020 - Reutzel Two for Three in All Stars in 2020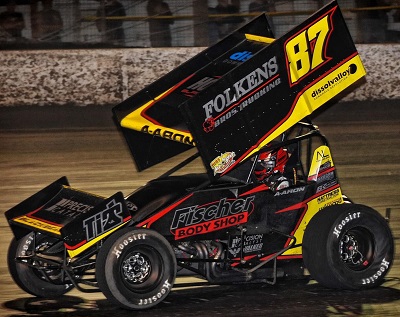 February 6th and 10th. Aaron Reutzel wasted no time in resuming his torrid race win pace in 2020, winning two All Star features in his first three attempts of the season. Pushing his win total to three on the year after a win in Australia, Reutzel claimed top honors at Volusia Speedway on Thursday night and East Bay Raceway Park on Monday night in the Baughman - Reutzel XXX, putting on dominant shows both nights on his way to wins.
February 9th, 2020 - First Outlaw of 2020 for Schuchart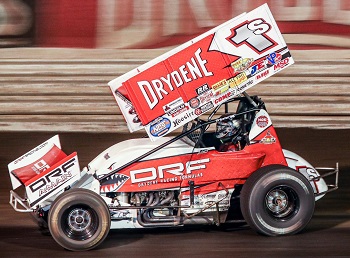 February 9th. Shark Racing is off to a fast start in World of Outlaws competition as Logan Schuchart got win number one on the year on Sunday night. Racing at Volusia Speedway in Florida, Schuchart led the final 29 laps of the main event to pick up his first win of the year, capping a great first three nights of Outlaw runs that never saw him finish outside the top five.
January 11th, 2020 - #2 For Williamson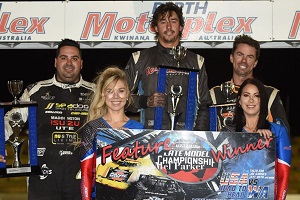 January 11th. Callum Williamson won his second feature of the season this past weekend at Perth Motorplex in Western Australia. After winning both of his heat races, Williamson took the lead from his front row starting spot and led every lap of the main event, turning away a late challenge amongst lapped traffic as he rolled to victory in his XXX.
January 5th, 2020 - World Series Win for Reutzel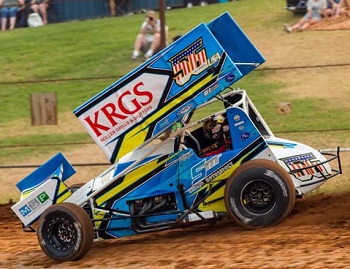 January 5th. Aaron Reutzel now has his first win in international competition after besting the World Series of Sprintcars at Hi-Tec Oils Speedway in Toowoomba, QLD Australia on Sunday night. Despite being near the front of the field all night (second quick and third quick in his qualifying flights and running first and second in his heats), Reutzel was forced to start 11th on the field after a huge invert. Proving his speed was no fluke, Aaron took the lead on lap twenty six as he roared to his first off North american soil.
January 4th, 2020 - Double Feature Night Overall to Dillon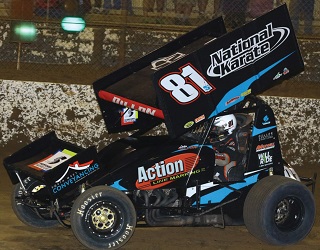 January 4th. Murray Bridge Speedway tried something different with their wing sprint cars on Saturday night, opting for pill draw and dual main events, and crowning an overall point champion as well. With his XXX chassis working well, Luke Dillon was the man crowned champ, racing up to second in the first feature and cruising to a win in main event number as he grabbed the overall title for the night.
January 4th, 2020 - Two Wins in One Night for Kofoid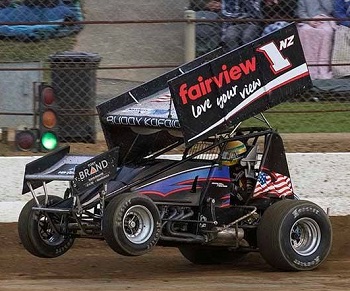 January 4th. Buddy Kofoid conitnued his dominant run in New Zealand by winning two main in one night at Ruapuna Speedway in Christchurch. with Friday's program lost to weather, the Salute to Goodie and Gold Cup Features both ran on Saturday night on the South Island track. Car owner Daniel Anderson had Kofoid's XXX on kill again, as Buddy won by 3.9 seconds in the Gold Cup Main Event and came from last to first in the Salute to Goodie. He also won both heat races.